Colorado's legislature sees a rising barrage of legislation enforcement legal guidelines – Colorado Springs Gazette
There's a lively undercurrent in the legislature: the volume of law enforcement laws working their way through the General Assembly like a river carves a canyon.
A police officer said he was monitoring 40 bills, including about two dozen – more to come – that are directly related to the way law enforcement officers do their jobs.
What is driving the rise? The most obvious answer has to do with the deaths of George Floyd and Elijah McClain and the 2020 protests. It was a vow by members of the Black Caucus Legislature that the April 20 conviction of former Minneapolis police officer Derek Chauvin was only a first step towards justice.
However, the answer is also a little more nuanced.
"We're taking many bills who died from COVID last year," said Rep. Kerry Tipper, D-Lakewood, who sponsored several of those bills.
Their list includes House Bill 1015, which privatizes the personal information of proofreaders, public defenders, and other "protected persons," and HB 1057, which would make it illegal to provide law enforcement agencies with information about an undocumented person in an attempt to blackmail the immigrant, to do or not to do something legal.
"It's possible that sometimes when we're pushing policy changes, people are forced to the table who didn't feel the urgency," she said. Tipper attributed this in part to the Police Accountability Act in 2020, Senate Act 217, which she said for better or worse, may have got people to come to the table.
This is the law passed last year that lifted qualified immunity, a tool that kept peace officials from being sued for potentially illegal activities.
Tipper said there is also a link between mental health, substance abuse and criminal justice.
"What we did didn't work," she said.
Tipper calls the 2021 law enforcement actions a tipping point that is partly controversial and partly collaborative, and shared by both law enforcement and lawmakers.
Rep. Leslie Herod, D-Denver, speaks to the crowds from the Denver Capitol steps after the police reform laws were signed in June.

Courtesy Sophie Hackett, Office of Rep. Leslie Herod

Rep Colin Larson, R-Littleton, stands up for those who want better training and better outcomes for law enforcement officers. It got his name on two bills that deal with the way civil servants do their jobs: one about the interaction of first responders with the developmentally disabled (HB 1122) and one about safe transportation for people in a behavioral crisis (HB 1085) who are also a law enforcement nexus.
Larson believes the urge to deal with these issues was initially related to what happened last summer, as well as a lot of rhetoric that he found troubling. "It created a dichotomy where law enforcement became 'vicious' and tended to identify it as a problem," he said.
There's clearly a flaw, but law enforcement is a partner in fixing that, Larson said. "You are not the enemy." He added that the establishment of law enforcement is not inherently wrong, but there are problems. "Why do interactions escalate to violence and what can we do to achieve better interactions?"
He hears from law enforcement that they are trained to enforce the law but are instead being asked to respond to people in mental health emergencies. That's not necessarily a law enforcement problem, but they are the ones answering, Larson said. When officers have this type of training, it is minimal, he said.
"Let's train you better," said Larson, "because the way the system is set up will make law enforcement the first aid to a mental health crisis. So let's make sure those interactions end better."
Another bill, with law enforcement support, would revolve Colorado law around what is known as Brady, a reference to the 1963 U.S. Supreme Court decision, Brady v Maryland, that set rules for pre-discovery. A brady list is one of those rules. The prosecution must keep an updated list of law enforcement officers whose testimony may not be credible, including bias.
Senator John Cooke, R-Greeley, a former Weld County sheriff, is the sponsor of Senate Bill 74, which aims to create a Colorado-specific Brady bill. He said law enforcement and district attorneys handle the Brady Rules differently and that the state needs a clear standard. The prosecution is required to provide exculpatory evidence to the defense, including the credibility of the witnesses, including those of the prosecution. Nobody wants to work with a liar, Cooke said.
His bill would define what a Brady problem is, and prosecutors would need to develop policies and procedures. Colorado could then be the first state to pass Brady-based law, he said.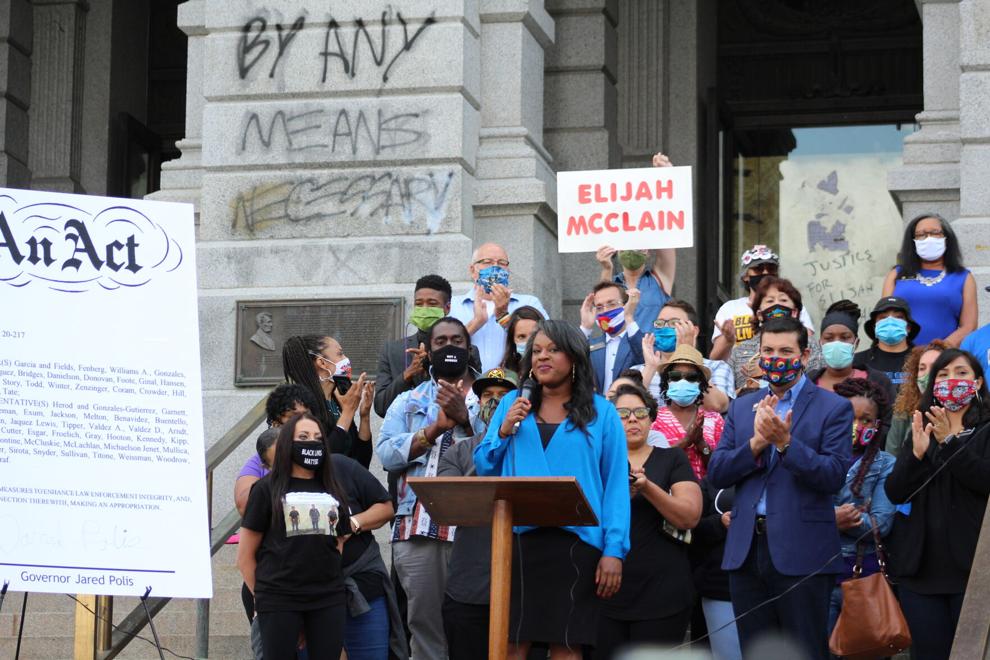 Rep. Leslie Herod, D-Denver, speaks to the crowds from the Denver Capitol steps after the police reform laws were signed in June.

Courtesy Sophie Hackett, Office of Rep. Leslie Herod

Larson's second bill deals with safe transportation. A person in a mental crisis who needs to go to hospital has only two options: a police car or an ambulance. Both are incredibly inefficient with dollars and not good for someone in crisis, Larson said.
His bill would use an unmarked SUV with a bit more reinforcement, but it's discreet, he said; it shows up without throwing a flag for the neighbors. "I love getting into those bills," he said, as a collaborative approach with law enforcement, rather than an antagonistic approach.
The narrative "Police are bad, you should be careful interacting with them" doesn't help anyone.
He saw another measure – a school discipline law that has now been withdrawn – in the same light as potentially creating an antagonistic relationship with school officials rather than encouraging interactions between students and police that can be positive.
"I think there will be more hostile accounts," said Larson. "It's too important an issue to sit on the sidelines. Let's acknowledge these real problems," he said. This includes the police treating colored people differently than white people. "We have to fix it, but the way." Fixing it is not killing the police. It's about training them better. "
The School Disciplinary Act (Senate Act 182) was introduced by Denver Democratic MP Leslie Herod and Aurora Senator Janet Buckner to curb harsh punishments for nonviolent students, including banning elementary school children from handcuffs. Color students are disproportionately the recipients of such an enforcement, they said.
The legislation would also have obliged school districts to adopt guidelines for the selection of school officials and to create an evaluation process.
"Although we were disappointed with the divisive and imprecise rhetoric surrounding this bill, we continue to seek to raise the voices of students and families who face the consequences of harsh disciplinary tactics," the statement said the legislature released when they scuttled the bill.
Larimer County Sheriff Justin Smith, who heads the Colorado County Sheriffs Association, said the proposal would create "criminal offenses on school grounds."
Much of the discomfort, and sometimes the sharpness, can be attributed to last year's SB 217.
On April 21, the House of Representatives Judiciary Committee revisited the reform, with a 2021 bill to tighten some language, including a definition of "discharge," clarifying the body-worn camera law, and adding Colorado state Patrol the law enforcement agencies that fall under the law.
Herod, one of the sponsors of SB 217, said the cleanup provided more clarity.
House Bill 1250 is a continuation of last year's work and the state patrol is ready to join the ranks, Herod said. There were also questions about the use of force and reporting requirements, an issue that Herod said was raised by Attorney General Phil Weiser. "We are working to convey this consistency and clarity to the public."
Smith compared the changes to being in the middle of a professional ball game where the rules change every quarter.
"The legislation is not the quality we should be getting," he said.
Smith said he appreciated the efforts to clarify the body-worn cameras law, as well as the additional $ 2 million that will be put into next year's budget for these cameras. However, entering into mandates with no resources could result in layoffs.
Cooke, a key player in the compromise that became SB 217, says he would prefer to wait a year before making any further legislative changes.
"Things have to calm down a bit and we have to see what that does," he said, admitting that the speed with which the bill was racing through the General Assembly led to some cleanup.
However, there is no need to change the use of violent language less than a year after SB 217 was passed, when officers have just completed training on the requirements, he said.
In a way, it's an overreaction and "we don't know what we're doing yet," Cooke said.
The word "antagonistic" appears frequently in discussions about law enforcement measures in the current session. Herod has taken a lot of verbal abuse for her law enforcement accountability efforts, including death threats, she said.
"I think it was a bit antagonistic," said Herod.
She tried holding stakeholder meetings, she said, bringing people to the table to let them know what she's working on ahead of time. Herod said efforts were also made to undermine the measures, which differ from the face-to-face conversations.
"This is becoming increasingly problematic," she said, and that includes the threats and intimidation. But it's also about why the changes need to be made, she said. "It is important that law enforcement is held accountable and adhered to a standard by which we can respect their impact on the community and their interaction with community members."
SB 217 was a start, said Denver lawmakers. Everyone came to the table with additional ideas last year, and when the legislature tries to get those ideas into law this year, "we are being pushed back by those who introduced those ideas in the first place. The conversation is sometimes insincere. "
Misinformation and scare tactics are at an all-time high, more than it has seen. They go back to their days in the administration of Governor Bill Ritter, Herod said, adding, "We have to face an opposition that does not even acknowledge the facts. "
The antagonism, Smith said, is due in part to two factors: the lack of convocation of concerned parties, called stake holding, on SB 217 and tax implications that are not accounted for by law.
There are legislators Smith can count on from both sides of the aisle. But "some of the people who are very important in the Capitol do not take over interests or listen," said the sheriff. "We continue to find those who will listen."
The Sheriff's Association is also not wild about Senate Bill 62, which waives bail under certain circumstances. It's too broad, Smith said, and codifies who can be arrested due to a year of the pandemic.
Smith also referred to HB 1211, which would remove solitary confinement in prisons. The purpose of the bill is not to overclassify people (especially people with mental illness), but the challenge is that some of the bill's requirements simply cannot be met, Smith said.
"If the measure is successful without significant changes, this is contrary to our duty to protect and could push them (with mental illnesses) into other prison populations."
Another bill restricts the use of ketamine, the potent sedative that has been blamed in part for the death of Elijah McClain, the Aurora man who was subdued by police in August 2019.
Rep. Yadira Caraveo, D-Thornton, a health care professional, said there is proper use of ketamine but not in law enforcement situations.
"Our main concern is that these decisions (about how to use ketamine) are not based on a medical diagnosis or condition," said Caraveo. She wants to make sure that law enforcement instructions on the use of ketamine are limited "while maintaining a doctor's ability to use it for a disease."
Could a law enforcement officer still request the use of ketamine? It's a gray area, said Caraveo, but one in which the decision should be left entirely to the medical professionals.
Herod, who is a co-sponsor of House Bill 1251, says the bill requires an exact weight for the person who may be receiving ketamine, which McClains did not. He was reportedly given a dose twice that which should have been given to a person his size.
Herod said weight control prior to the administration of ketamine was a standard in hospitals. "We're really focused on spreading the use of ketamine. It has increased significantly across the state, as has its medicinal impact. If you're an EMT and someone is combative, step back. If they refuse care, step back. When law enforcement agencies need to arrest someone, they can do it without the use of ketamine. "
It is not a gentle drug, said Herod, but a dangerous one that has led to paralysis and death.
There are already laws on the books prohibiting law enforcement from controlling the use of ketamine, Herod said. However, it has consistently been ignored which is why the weight is required. it provides a barrier. If an officer breaks the law, they can lose their Police Officer Standards and Training (POST) certification.
The use of ketamine must take place in a controlled environment, with the vital functions must be closely monitored as it has a high rate of intubation, according to Caraveo. She acknowledged that the ability to weigh someone on the spot is limited at best.
"There are other drugs you can use that aren't weight based," she said.
It does not take into account the tax implications of the bills for local and county governments, Smith said. He blames a lack of time in determining these costs and explains that the local officials often only have 24 hours to add them up.
The mandates also add to the cost of risk management, including insurance, he said.
Some insurers are leaving the state, Smith said. Others raise interest rates and lower coverage, which, in his opinion, is based not on lawsuits but on fear of the unknown. This either leads to tax increases or a reduction in services.
The other costs are less tangible and that is time to complete the reporting. There are 45 areas that sheriffs are required to report on to the state, Smith said.
"It feels like reporting is being done more than protecting the community," and he wonders if those reports are being read at all.
Smith said he would like to see discipline, perhaps to add sunset reviews to these reporting requirements.
And Smith said there are issues that should be addressed, including recruiting and supporting the "right kind" of peace officers and improving training.
The only bill to pass the draft is House 1030, which Smith says is based on best practices and expands the law enforcement mental health grant program.
He said officers suffer the same trauma as dispatchers or firefighters.
"There is a lot of chronic trauma that extends over the years," and this leads to suicide, which he described as "too widespread". Psychological support saves careers, Smith said.
While the bill would allow more law enforcement agencies to participate in the grant program, from 350 to 680, the meager $ 2 million a year funding would remain unchanged.
Smith's message to lawmakers: Instead of creating a bill that punishes a perceived problem, "let's look at best practice in that area."